Winery Tasting Room
Have you ever turned your head to face into a cool mountain breeze as it blows across the hill top? An afternoon spent at your very own mountain chateau, a picturesque mountain tasting room surrounded by a large, producing vineyard and beautiful pasture is sure to take your breath away.
A Virginia Farm Winery Experience

End your peaceful day in the mountains sitting on a large open patio, beneath a unique table's umbrella. As you sip your glass of Iron Heart Winery's wine, the cool breeze rustles through the trellises before you and teases hay in the adjacent field. The sun begins to fall behind the mountains to your west after passing over the biggest and bluest stretch of sky you might ever find; the hillsides around you begin to sing you a lullaby. Rippling water of the nearby creek melded together with crickets, cicadas, birds and bull frogs make an amalgamation of bliss.
Inside, you will find a fully furnished tasting room that's previous life began over 150 years ago as an old corn crib (barn). The remodel was completed with country life in mind and you are sure to be charmed by the open and airy layout, which showcases the craftsmanship of decades past. Inside, you will find hand hewn beams held together with handmade pegs. Many of the original exterior walls are still visible in places and show the open slats that allowed the wind to blow through to dry the grain housed within.
The surrounding area still hints at days gone by, where you will see an old blast furnace that stands as a tribute to the once booming crossroads known as Kayoulah. Nearby you will see structures that still stand that once supported the flourishing industrial site, including: iron blast furnace, the railroads section foreman's house, the superintendent's house, the company store, the blacksmith shop, the scale house and the remnants of the old grist mill.
The Facts
Iron Heart Winery as a Virginia Farm Winery as Fariss Farms' sister company. Set on a 70 acre tract with a 3 acre yard and 10 acre vineyard adjacent to 30 acres of pasture and approximately 1/8 mile of creek frontage. The cabin is located atop a rolling hill overlooking the vineyard and pasture with 3 large outdoor tables to sit and take in the natural beauty. Your only neighbors within sight are other Fariss Farms guests.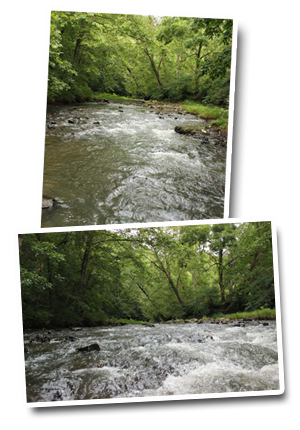 Trails lead down to a wonderfully secluded and well-shaded creek-side picnic area and deep swimming hole. The lodge is located approximately 2 miles from Claytor Lake's Allisonia public Boat launch and 1.5 miles from access to the New River Trail, a 39 mile linear park that is great for leisurely bike rides or evening strolls.
– Perfect for events!
– 3,300 square feet.
– Wrap around deck and patio (1900 ft2 patio; 1280 ft2 deck)
– 5 acre producing vineyard
– 30 acre pasture
– 1/8 mile crystal clear mountain creek frontage
– Enormous flat yard (approximately 3 acres)
– Burning pit
– Walking Trails
– Pet friendly
Interior Photos
Weddings
– The Farm is available for weddings and The Corn Crib acts as the centerpiece. Pricing is available upon request.
Map
Directions to the Corn Crib Cabin at Fariss Farms
– The Corn Crib is located at 3742 Boone Furnace Road in Allisonia, VA
– From I-77 (From Virginia)
– Traveling I-77 take exit 32 to I-81 North
– Take exit 89A (100 South)
– Travel 100-S for 6.5 miles
– Turn left on Gardner Rd (Rt 608)
– Travel 3 miles on Gardner Rd(Rt 608)
– Turn at right second driveway after crossing the first bridge over creek