The Store
It is amazing how a babbling mountain stream can soothe your soul. Sitting on the large deck, over-looking the stream just below will certainly help you unwind. Spend your afternoon in the large, cozy, living room or let everything go while you explore the huge yard and creek bank.
The Virginia Cabin Rental Experience at The Store
Some things never change, like the feelings evoked by porch-sitting while watching running water. Carvings in the siding along the porch testify that fellow porch sitters have been taking advantage of the same scene for decades. Forget your troubles while you fall in love with the sound of a cool mountain creek. Watch your family or friends play in the huge flat yard or gaze out into the large pasture adjacent as you lose yourself in the reverie of this secluded cabin. If you don't catch yourself, you could drift to sleep in your chair as the surrounding wilderness sings you a lullaby.
Inside, you will find a fully furnished cabin that's previous life started over 150 years ago as the Company Commissary (store). The remodel was also done with country life in mind while maintaining much of the charm witnessed in the original layout. The huge, open rooms with high ceilings showcase the craftsmanship of decades past. This house was tastefully remodeled with recycled materials that further exemplify the house's historical essence.
The surrounding area still hints at days gone by, where you will see an old blast furnace that stands as a tribute to the once booming crossroads known as Kayoulah. Nearby you will see structures that still stand that once supported the flourishing industrial site, including: an iron blast furnace, the corn crib, the railroad section foreman's house, the superintendent's house, the company store, the blacksmith shop, the scale house and the remnants of the old grist mill.
The Facts
2,400 sq ft fully furnished home with modern amenities. Set on a 70 acre tract with a 3 acre yard accompanied 30 acres of pasture and approximately 1/8 mile of creek frontage and a nearby producing vineyard.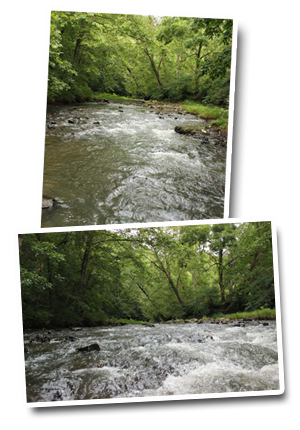 The cabin is nestled along the creek with a multitude of great places to sit and relax. There's a great view of the blast furnace and is adjacent to the rock terraces and foundations of what used to be a grist mill. The cabin is located approximately 3 miles from Claytor Lake's Allisonia public Boat launch and 1.5 miles from access to the New River Trail, a 39 mile linear park that is great for leisurely bike rides or evening strolls.
– Perfect for events!
– 2,400 square feet
– Large front deck – 592 ft2
– 30 acre pasture
– 1/8 mile of Crystal clear mountain creek frontage
– Enormous flat yard (approximately 3 acres)
– Burning pit
– Plenty of room to walk and roam
– Well shaded Creek-side picnic area with great creek access
– Pet friendly
– 4 Bedrooms (1 Double Bed in Each)
– 2 full baths
– All Linens Furnished
– Fully Equipped Kitchen, including dishwasher
– Fully Furnished Laundry Room
– Central heat and air
– Sleeps 8
Interior Photos
Virginia Cabin Rental Rates
– Weekly $1095
– Friday or Saturday Night $195 per night
– Sunday through Thursday Night $175 per night
– Above rates are Peak Season and Holiday Rates
– (May 1 through October 31)
Virginia Cabin Rental Off-Season Rates (excludes holidays)
– March 21 through April 30 &
– November 1 through November 30
– Weekly – $875
– Friday or Saturday Night – $155 per night
– Sunday through Thursday Night – $135 per night
Virginia Cabin Rental Winter Rates (excludes holidays)
– December 1 through March 20
– Weekly – $765
– Friday or Saturday Night – $135 per Night
– Sunday through Thursday Night – $115 per Night
3 Day Holiday Weekend Minimum at Peak Rates
– 3 Day Minimum for VT and RU Graduation Weekends
– Check-In 4pm * Check-Out 10am
– $95 Cleaning Fee
– Refundable Damage Deposit: $300
Map
 Directions to The Store at Fariss Farms
– The Store is located at 3738 Boone Furnace Road in Allisonia, VA
– From I-77 (From Virginia)
– Traveling I-77 take exit 32 to I-81 North
– Take exit 89A (100 South)
– Travel 100-S for 6.5 miles
– Turn left on Gardner Rd (Rt 608)
– Travel 3 miles on Gardner Rd(Rt 608)
– Turn at first driveway after crossing the first bridge over creek